About Me
Theodor Yemenis ( GR )
Dr. Phil. University of Munich.
Works and lives in Hamburg, Germany.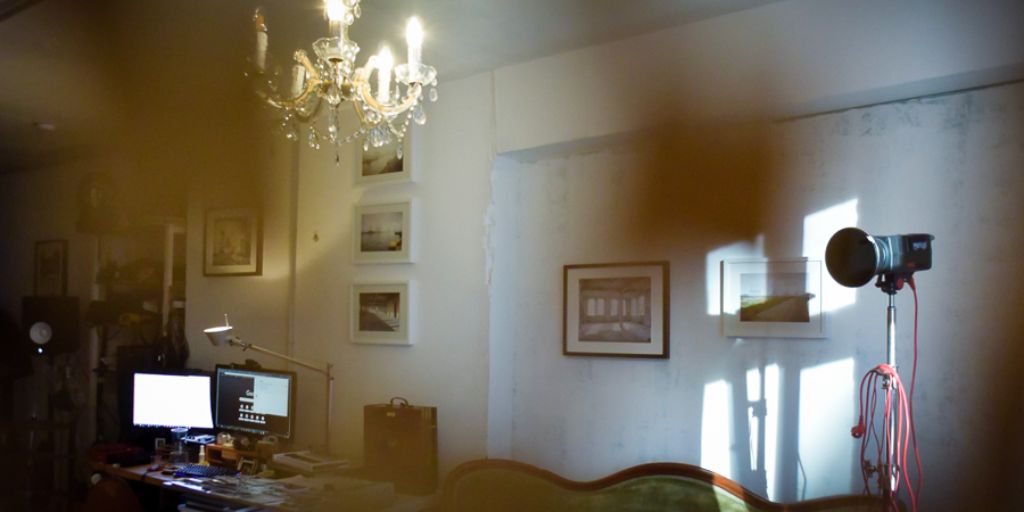 artist studio - eMail: atelier(at)photovisionproject.com
CV
[ DE ] Geboren zwischen Land und Meer in Griechenland. Ich habe Physik, Informatik, Klassische Philologie und Philosophie in München studiert. Ich lebe und arbeite als freischaffender Künstler in Hamburg. Schwerpunkte meiner Arbeiten sind: »URBANE LANSCHAFTEN«, »Ästhetik des Verfalls« oder genauer der »Zerstörung« und der »Krise«. Dabei betrachte ich Entropische Prozesse, Veränderung (Change), Verfall (Decay), Abriss, Demolierung, Zerstörung, Krisen (Crisis) als Grundprozesse von Geschichte und Zivilisation und als Leitmotive einer alternativen Ästhetik (»Ästhetik des Verfalls, Ästhetik der Krise«). »Das Inszenierte Ich«, Portrait als Maske, als performative Handlung, als Theater ist ein weiteres Feld meiner künstlerischen Tätigkeit.
Meine Aufnahme-Techniken beruhen auf die traditionellen Methoden der analogen (Film)-Photographie. Belichtet wird auf Film-Material mit den unterschiedlichsten Kameras, von der Camera Obscura (Lochkamera), über Mittelformat-Kameras bis hin zu Aufnahmen mit Großformat- und Platten-Kameras. Die Film-Aufnahmen werden digitalisiert und werden weiter durch digitale Bearbeitungsmöglichkeiten geformt. Dieses Hybrid-Verfahren ist substantieller Bestandteil meiner Ästhetik und bezeichnend für die Ambivalenz des modernen Individuums zwischen Nostalgie und Kritik, Tradition und Innovation, Authentizität und Simulation.
Ich bin auch an 360 Grad Panoramas*, VR ( Virtual Reality ), WebVR, 3D modeling ( Photogrammetry ) und interaktive Fotografie** spezialisiert.
*Panoramic photography is the process of capturing an extremely
wide field of view into a single photograph either by using specialized equipment, or specialized software.
**VR photography, or virtual reality photography, is the interactive viewing of wide-angle panoramic photographs, generally
encompassing a 360-degree circle or a spherical view (hence also known as 360-degree [interactive] photo and photo sphere.
[ ENG ] I am a freelance photographer and theorist based in Hamburg, Germany. PhotoVisionProject is an exploration in the field of art of photography. I understand photography not as a technique to duplicate reality but as a creative process of investigation, exploration and visualization of people in their cultural surroundings.
My main photographic focus points are: Urban Space and Architecture, History, Ruins and Decay, Portraits, Identity and Storytelling. I am specialized in 360 Panoramas, VR ( Virtual Reality ), WebVR, 3D modeling ( Photogrammetry ) and I am doing some video work.
SERVICES and COMMISIONS
I do commissioned and commercial work in architectural, panoramic and VR photography and fine art portrait photography ( contact me via email, facebook or instagram). My studio is situated in the center of Hamburg (Alt-Stadt).
Commercial work is generaly shot with a Nikon D800E and prime or specialized lenses ( portrait, macro, architecture ) in available or artificial light.
For my personal and artistic work I use various analog ( film ) cameras such as Linhof Master Technika, Hasselblad 501 CM, Plaubel Makina 67, Pentax 67, Zeiss Contax IIIa, Nikon FM2.
Also I have experience and expertise in Digitisation and Digital Preservation (contact me for advise).
I speak English, German and Greek fluently and Russian sufficiently.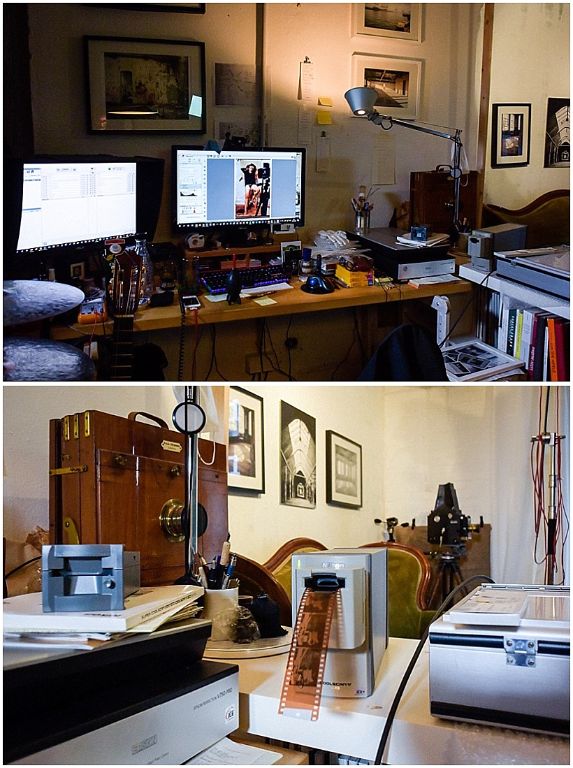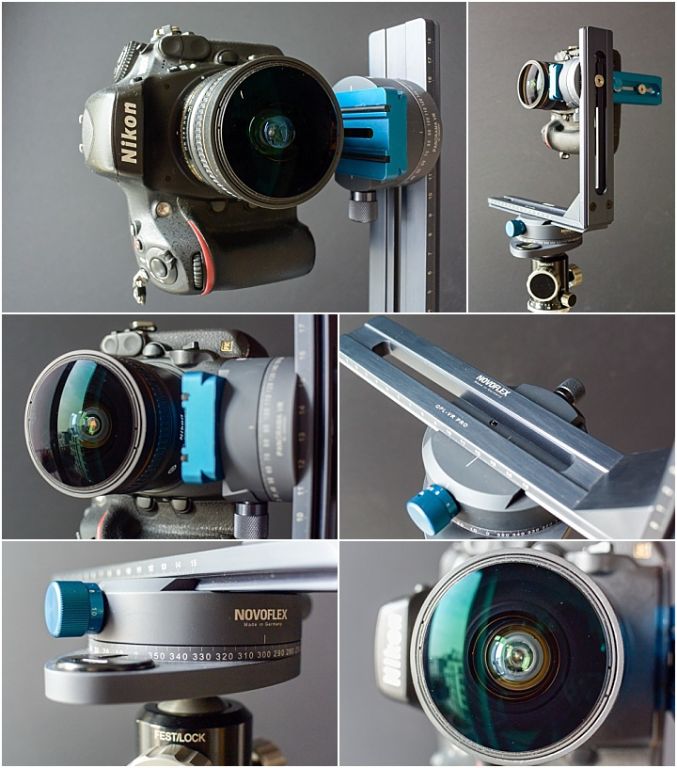 The Hardware for Panoramic and VR Photography: NIKON D800E, Nikkor f2.8 10.5mm fisheye, NOVOFLEX VR-SYSTEM II PRO
2022 ( *** )
DIE GOLDENE SCHNITTE II (more soon ...)
2021 ( *** )
18.12 - 19.12.2021 - LAST Minute FRISE 21 in FRISE GALLERY.
26.04. - 09.05.2021 - "DER IKONOGRAPH" - WESTWERK GALLERY (POP UP WINDOW)
2020
04.09 - 18.09.2020 - "CHORA" ( a photographic investigation of the concept of SPACE ) - Galerie nachtspeicher23, Lindenstr. 23, 20099 Hamburg.
23.01 - 02.02.2020 - "ART OFF HAMBURG - Second Sight" - 2. Gemeinschaftsausstellung der freien Hamburger Kunstorte. WESTWERK.
15.01. - 08.02.2020 - "Gruppenasusstellung - Die Welt ist ein Hund auf dem Rücken liegend". In Wendland.Elbe Scheel-Plessen-Str. 19, 22765 Hamburg Altona.
2019
13.12.19 - 10.01.20 - "Gruppenausstellung - Ausblick auf das Programm 2020". Galerie nachtspeicher23, Lindenstr. 23, 20099 Hamburg.
9. - 19. MAI - "Das Chaos lockt mich und reizt mich zum Gestalten". WESTWERK GALLERIE ( BAUHAUS100, HAMBURG ARCHITEKTURSOMMER 2019 )
9. - 21. FEB. - TOD UND VERDERBEN BUNKERHILLGalerie ( Vernissage am Samstag, den 9.2. um 18 Uhr im Bunker 5.Etage! Feldstraße 66 20359 Hamburg )
4.- 13. JAN. - Erste gemeinschaftliche Ausstellung der Initiative ART OFF Hamburg. Frappant Galerie Viktoria-Kaserne Zeiseweg 9, 22765Hamburg.
2018
WERKSHAU 2017/18 - 25. MAI. - 15. JUNI. 2018. ATELIERHAUS23, Am Veringhof 23A, 21107 Hamburg
2017
"xpon-goes X". 08.02-12.03.2017 xpon-art, repsoldstr. 45, 20097 hamburg.
2016
"Urban ruins". 06.05.-19.05.2016 Decumanus Gallery in Krk, Croatia ( web-site: kreativnikrk.com ).
"überMACHT". 10.03-17.04, xpon-art gallery, im KuBaSta / repsoldstr 45 / 20097 hamburg, germany.
"palimpseste". 29.03.-11.04.2016, pop-up galerie, grindelallee 117, D-20146 hamburg, germany.
2015
"HEIMAT". 26. Sept. - 18. Okt. 2015. ATELIERHAUS23, Am Veringhof 23A, 21107 Hamburg
2015
"RUINENLUST - Ästhetik des Verfalls/Poetik des Verschwindens". Kunstaustellung Sa. 4. - So. 19. Juli 2015. GALERIE23 - Am Veringhof 23, 21107 Hamburg
Travels are a substantial part of my creative process. I have spend significant part of my time traveling abroad. I use short or longer journeys and as ways to extend my knowledge (study stays), to determine and test my resolutions and to change/develop my vision. Travels have leaved deep traces in my personality and helped me to form my artistic path.
1980-1985 THESSALONIKI, GREECE
1985-1994 MUNICH, GERMANY
1994-1999 THESSALONIKI, GREECE
1999-2001 ATHENS, GREECE
2001- HAMBURG, GERMANY
2007 Isle of Wight (UK), Puhket (THAILAND)
2008 MALLORCA (SPAIN), AMSTERDAM (HOLLAND)
2009 CYCLADES (GREECE)
2010 CYPRUS, GREEK ISLANDS (CYCLADES, DODECANESE)
2011 CYCLADES (GREECE), WEST COAST OF ITALY
2013 PARIS (FRANCE), KIEV (URCRAINE)
2014 PORTO (PORTUGAL), PRAGUE (Czech Republic)
2015 LISBON (PORTUGAL)
2016 CYCLADES ( GREECE )
2017 ATHENS, MONEMVASIA (GREECE)
2018 BERLIN (GERMANY), RHODOS (GREECE)
2019 ATHENS, MYKONOS ( GREECE )
2020 THESSALONIKI ( GREECE ), BERLIN, POTSDAM (GERMANY)